2006
2007
2008
2009
2010
Reports 2011
Please note that not every group receives direct cash aid from the Association.
Linlithgow Reed Band - formal report Linlithgow Reed Band - informal diary
Swim West Lothian at the 2011 SV Neptun Meet
Background
SV Neptun is a large community club based in Neheim, Hochsauerland Germany. The club was very keen to invite West Lothian swimmers as soon as sporting links were established with West Lothian Council in 2006. SV Neptun has a membership of around 950, of which around 35 swimmers are involved in competitive swimming. As with so many German swimming clubs they operate their own outdoor 50m swimming pool over the summer months from May to September. The 2011 SV Neptun Meet was the 40th year of the meet!
The swimming clubs of West Lothian attended the SV Neptun Meet for the first time in 2006. The whole experience of the clubs combining their forces and energies to participate in 2006 - dramatically assisted moves to establish Swim West Lothian. Those who participated as swimmers, coaches and officials have learned so much about how to approach this event, that real progress and improvements have been made on each occasion.
So with three SV Neptun meets behind them, the invitation to attend for a fourth time was eagerly accepted by Swim West Lothian. Team Staff were appointed and arrangements were made to go to Germany with 46 swimmers aged 11 to 17 years.
Preparation
It is worth noting how much preparation was put in for this trip. Just a few bullet points should give some indication of the very considerable work that was done, some examples include:

Correspondence with SV Neptun, including entries
Application for funding from WLC Twinning Association
Team selection
Correspondence with swimmers and their parents
Travel arrangements, including ferries and coach
Hotel booking and arranging pack lunches.
Codes of Conducts for swimmers and staff – in writing and in practice
Staff selection
EColi Outbreak in Germany concerns – development of a protocol for this trip
Coaching
Child Protection issues and protocols
Medical records and appropriate administration of drugs
Collating travel requirements, photocopies of passports, parental permission slips, EHIC cards, photograph permission slips etc.
Selection and administration of Squad clothing
Acquisition of large tent and range of equipment and supplies to support the "expedition"
Purchase of healthy snacks to support the squad for 3 days.
And of course - Care of Children and young people throughout the 5/6 days
Travel and Accommodation
Swim West Lothian decided that with such a large team (46 swimmers and six staff), that a bus would again be hired from Parks of Hamilton. The driver Mick proved to be a very experienced driver- amongst other things he has driven the Scottish football team coach for many years. The bus was very comfortable and importantly for some had an onboard toilet. The route taken was to/from Hull from Livingston.
One challenge of the journey was that the Meet start time had been changed to accommodate more swimmers. This meant that the team had to travel directly to the pool from Rotterdam, set up camp, warm-up and swim. A very long day for all. However, the team managed to cope with a very difficult start in the cold with on and off rain.
The two different European Ports which we use gave the team experience of two ferry routes. Going out from Hull to Rotterdam, returning to Hull from Zeebrugge. The cabins on both ships proved to be really comfortable. All the meals were also much appreciated with much choice.
The Hotel Zur Post in Arnsberg was again the base for team. Those who had been on earlier trips were so pleased to see some serious improvements to many of the rooms. The food provided for breakfasts and diners was also well received.
The Meet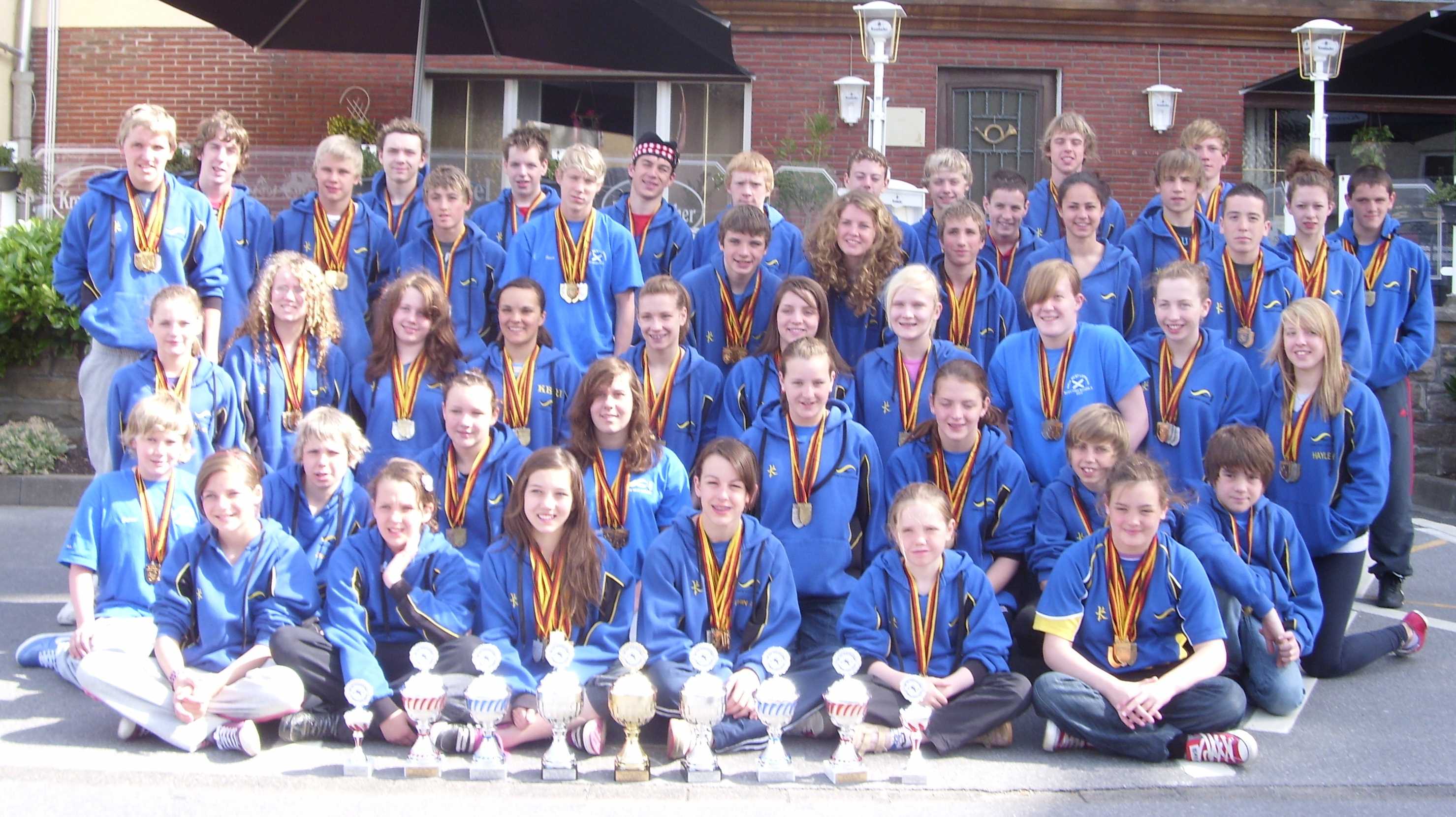 The first indications of the scale and size of the meet where when - the team staff received the programmes by email. To celebrate the 40th anniversary of this Meet, SV Neptun facilitated the entries of 740 swimmers to the Meet. There was of course a large representation of swimmers from Germany (mostly from North Rhine Westphalia) and the Netherlands. But also clubs from Romania, Hungary, Nigeria, Ghana and Scotland. There were also amongst the competitors many Masters swimmers.
On day 2 there is the Official Opening Ceremony, where the teams parade behind a brass band around the pool. Team SWL was led by our team captains who were carrying the Scottish Flags. At the end of the welcome speeches the swimmers released red balloons into the sky.
In addition to the formal function on the evening of the first night, which I and the lead Team Manager attended on behalf of the team, SWL were also invited to attend a ceremony on the second day to exchange club T-shirts with the host team. An opportunity presented itself thereafter for the senior SWL swimmers to meet with the senior swimmers from SV Neptun.
Last year SWL were interviewed by the local radio and TV and this year we were again the focus of media attention and the article featuring our team captains has been attached for information.
A big tradition of this particular Lent swim meet is the number of clubs, swimmers and coaches who were camping around the pool area. So despite the length of the sessions, swimmers could rest up in their tents. Food is also available at very reasonable cost all weekend.
The largest ever Swim West Lothian Squad swam really well over the weekend. In the earlier sessions it was really difficult for many swimmers, as they were so tired, and needed some adjustment to the outdoor conditions. However, confidence returned early on the Saturday morning, the sun appearing probably also helped, and continued to the very end to some very exciting team races.
Swim West Lothian Performance
Under a dismal, wet, grey sky and with a bit of a chill in the air, the competition kicked off on the Friday afternoon with the 400 freestyle, 400IM and the 200 Fly events. After a chilly afternoon of swimming and with comments of 'it's warmer in the water than on poolside!' our '14 years and over' girls and boys 4 x 200m Freestyle relay teams, braved the cold once again for the final swims of the day. Last year the girl's team won this event. This year they did one better and not only won but set a new meet record on the way. The challenge was on and not to be outdone, the boys also came racing home in a new meet time to lift the second trophy of the day. This was an achievement to be repeated again and again over the weekend with the SWL team setting two more relay meet records with the '13 and under girls' doing the double, setting records with their 4 x 100m Free and 4 x 100m Medley. Out of the ten relay events, SWL won seven and took silver in the other three.
Last year, each athlete was entered for between ten and twelve swims from the fourteen individual swims on offer. This year was no exception and when the final medal count was announced, SWL had not only taken Top Club, we had done so with an impressive haul of 187 medals with:- 72 Gold, 65 silver, 50 Bronze medals with every one of our 46 athletes also receiving certificates for a top six placing.
Having picked up a relay gold on day one, our '14 and over' boys went up against the best of the rest for the final event of the meet, the 4 x 100m freestyle. Although the youngest (and smallest) team on the blocks, the four from SWL now had their sights set on gold. Encouraged all the way, by the deafening poolside cheers from their teammates, the boy's battle back from 4th to 1st place in the final two legs to bring trophy number seven back to Scotland.
Post Meet celebrations
The Swim West Lothian team put in a brief visit to the end of the meet disco party. However, it was noticeable that by the time the team went back to the hotel, and met the agreed curfew times to be in bed, things went quiet very quickly. This was a very tired, very happy, and very successful big team.
Funding
Once again SWL are very appreciative of the ongoing support from the Twinning Association which allows us to reduce the overall cost to the parents. This year the final cost per person was £235. On behalf of the parents I would like to thank the Twinning Association for their invaluable support in allowing SWL to offer such a fantastic and affordable experience for these youngsters
Work in Progress
I am preparing a discussion paper for Swim West Lothian on A) their options to attending the annual SV Neptun Meet, B) further Hochsauerland links with West Lothian swimming, C) inviting SV Neptun to West Lothian and D) on other swim meet opportunities that might be on offer in Germany.
For my part, I really appreciate the opportunity to play a small role over the weekend. To observe first hand how Swim West Lothian, as swimmers, coaches and club officials has developed into very well organised and successful swimming team. However as with all successful operations there are clearly ambitions to improve!
Many Thanks and Best Wishes to All.
Charlie Raeburn
Team Staff for SWL 2011 SV Neptun Meet.
Members of Linlithgow Reed Band are celebrating the tremendous success of their recent trip to Germany.
A 55-strong party of players, relatives and friends spent 11 days in West Lothian's twin district of Hochsauerlandkreis. This was the fifth time the band had visited the picturesque area of North Rhine/ Westphalia, known locally as the "land of the thousand hills" and this year marked the 30th anniversary of the first trip in 1981.
The party travelled by ferry from Newcastle to Amsterdam on July 7 and the next afternoon arrived safely at their destination. The welcoming speeches paid particular tribute to the most senior player, 80 year old Eddie McKenna, making his fifth appearance in Hochsauerlandkreis, and to the youngest, nine year old Peter Molloy of the LRB training band.
A busy programme of events included trips to the local Veltins brewery and the Borussia Dortmund stadium, as well as the Fort Fun amusement park and a sail on the Sorpesee Lake followed by an hour-long concert in the promenade bandstand.
There was also time to sample the wonderful local scenery and visit the famous lakes and dams.
The band stayed in the village of Herdringen near Arnsberg and was heavily involved with the local band – Musikverein Herdringen - whom they first met in Scotland in 1997.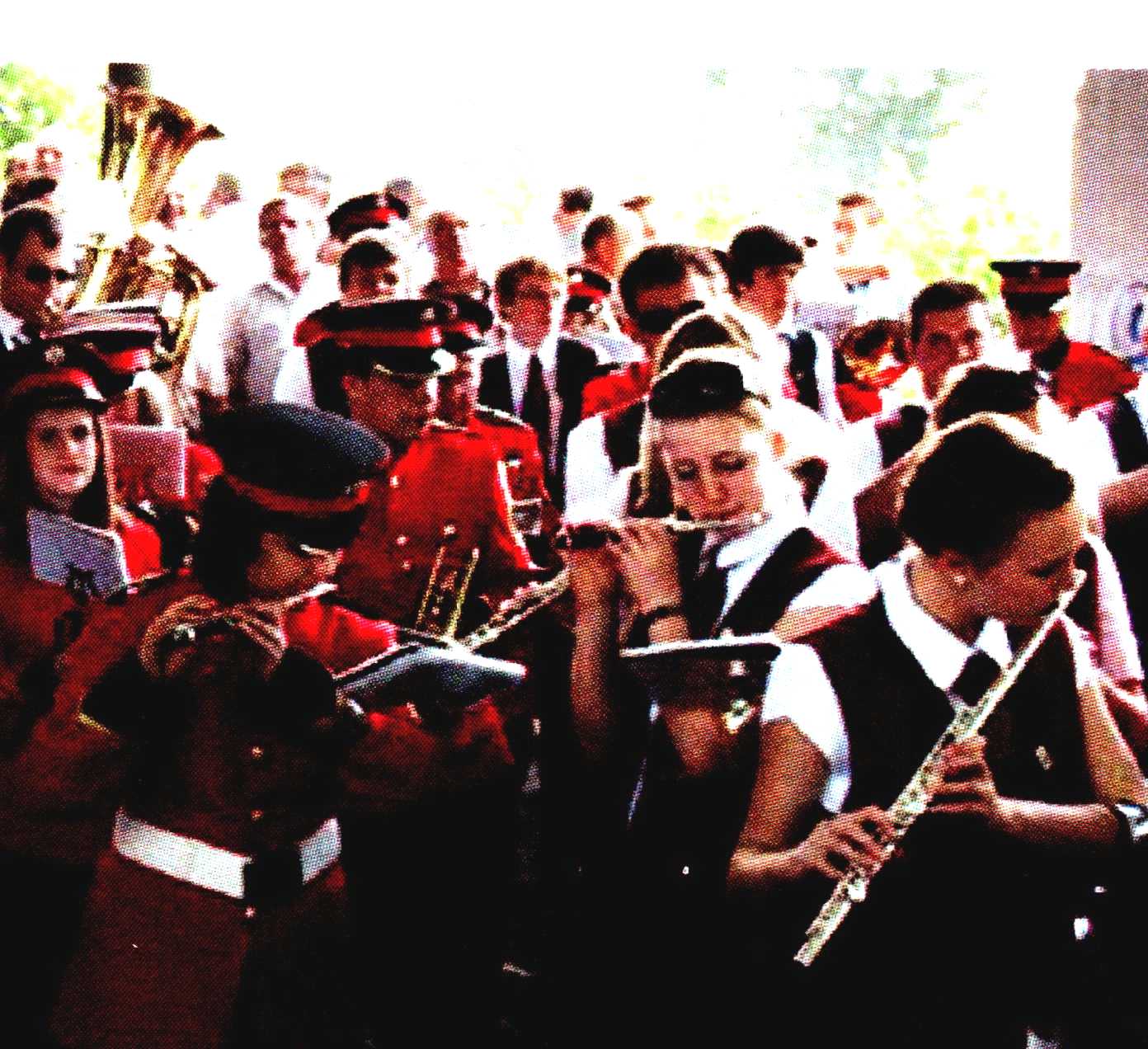 Let's enjoy music together.
The two bands teamed up for a joint concert and social evening which attracted a large crowd. Marching engagements included appearances at three local Schutzenfests.
In the Arnsberg district of Niedereimer, where the band had already appeared in 1985 and 1989, the welcome was warm and appreciative.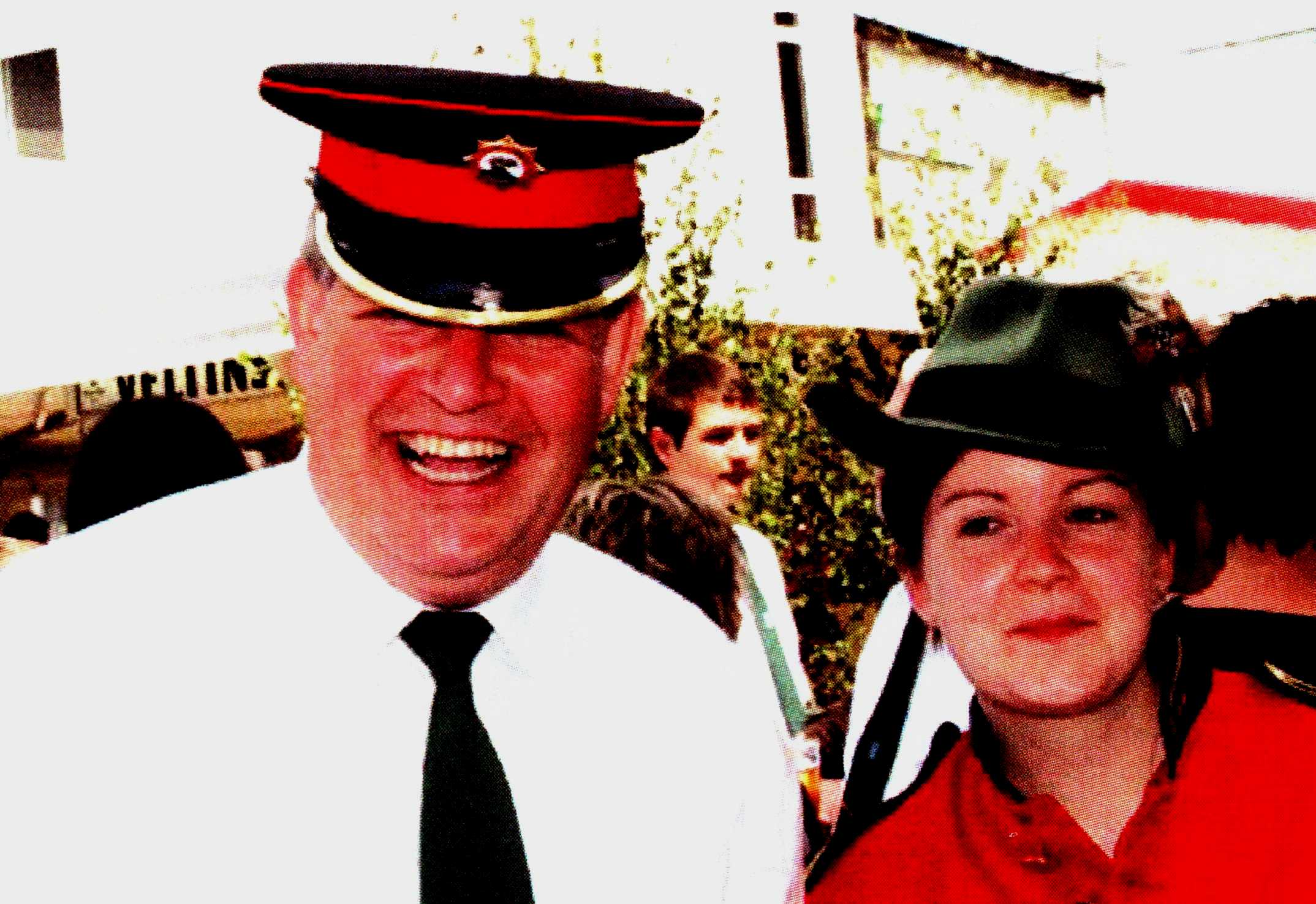 Let's swap hats.
In the village of Bachum, the band played together with the Musikverein Vosswinkel which has visited Linlithgow on three occasions including the 1989 Riding of the Marches.
The day concluded with an emotional rendition of "The Roke" in honour of the Musikverein Vosswinkel and also in memory of their late trombone player, Gunter Nies, a regular visitor with school parties to Linlithgow and Bo'ness.
Linlithgow Reed Band spokesman Murdoch Kennedy said: "The band received wonderful hospitality from our German hosts and the 30th anniversary of our own personal twinning link was celebrated in great style. Old friendships were renewed and strengthened whilst new ones were established. Music is the international language and is it was tremendous to see the musicians join in with their German counterparts, especially the young people from the LRB Training band, who are the future of the Reed Band. We look forward to continuing our links with Germany and hope to be able to welcome musicians to Scotland again in the coming years."

Extracts from the diary of Emma Bell, one of the 25 under-21s in Linlithgow Reed Band who benefited from a Twinning Association grant.
Freitag (8th July) – Arriving in Germany
The ferry docked in Amsterdam at 9:00am. Once everyone was off the ferry and on the bus, we headed for Hotel Dietzel in Arnsberg-Herdringen. We arrived about 1pm. My mum and dad's room was through the wall so they could keep an eye on us young ones. Once everyone had settled in, we went across to have a rehearsal in the Musikverein Herdringen room. Almost immediately, one of the members of the Herdringen band came in with a crate full of Veltins beer and a crate of soft drinks. After rehearsal it was time for dinner, I can't remember what we had, but I remember it was good. At night we had a social event with the Herdringen band . We each took turns playing a tune then we played a couple together. Everyone had a good night and we got to know some of the players from the other band.
Samstag (9th July)
On Saturday we had a trip to Sorpesee which is one of the Ruhr Valley dams. We travelled on the MS Sorpesee to see the dam. My dad had bought me a massive ice cream cone with 3 different flavours (banana, mint choc chip and coconut). It was amazing and everyone was asking for some, so I shared it with them. After the boat trip we played a short concert on an outdoor stage. We all had our red band poloshirts on, so we looked the part. The weather was brilliant even though it was quite windy. Once the concert was over, our little group went to get some chips, they were so delicious as they had an orange powder on them to give them extra flavour When we got back some of the band were having a volleyball game, so some of us joined in. I sat and videod them instead. We got back to the hotel just in time for dinner, then we had a free evening to do what we wanted. I chose to go a walk around the village with my mum and dad, Sophie, Amanda and Jenny also tagged along.
Sontag (10th July)
We had a free morning on Sunday before our first Schutzenfest in Holzen. The parade was at 2 pm so we had time to have a drink and mingle. As the weather was so hot, we had our poloshirt uniform on. Once the schutzenfest got underway there was a buzz in the air as we were the only Scottish band there. The Germans were very hospitable as every time we stopped, a crate of beer and a crate of soft drinks was 'flung' out on to the middle of the road. We would stand, chat and drink for a bit then we were off again. Once we had finished a tune the drummer was supposed to play a beat called the locken (well, I think that's what its called), but as our drummers didn't know it Carsten had to play it, as he was walking along side the band. The locken was to let the other band know that we had finished. When the parade was over we played a short concert. We played 'Don't Stop Believin' and 'Thriller' they were dancing and clapping along. Everyone was on a high when we got back to the hotel.
Montag (11th July)
We had our second schutzenfest on Monday which was in Niedereimer. This one was super early as we were up at 5:30am, breakfast was at 6:30am, we were in Niedereimer for just after 7:30am and our first drink was at 8am. This schutzenfest was different as they had a shooting competition to see who the new King was, this was done by putting a wooden eagle up in a tree and each person gets a turn to shoot at it. The other band played a short tune when someone hit the target and everyone shouted 'Horido' which means 'Hurrah' but we translated it as 'Haribo'. After the competition we went back to the hall we had to play into the hall. Because my dad was carrying the big drum he had a near miss with a pole. When we were in the hall we had lunch then got ready for the actual parade. The parade snaked all over the town and the band was feeling the heat as we had our full uniform on. We had some time after the parade to join in with singing and dancing. Our little group learned a song called 'Das Fliegerlied' or 'So a Schöer Tag' – its very catchy. We returned to the hotel to get dinner.
Dienstag (12th July)
We had a trip to Grevenstein for a tour around Veltins Brewery to learn about how the beer is made to the German purity rules. It was quite fascinating and would have been interesting if we had had an English tour guide. So we just looked around, took pictures, climbed lots of stairs and had a laugh with each other Once the tour was finished we took a short walk up the road to Hollander Hof restaurant to have lunch. It was very nice and the food was too. Most of the younger ones (including me) went to a small park and played tig, swung on the swings, played hide and seek and had a go on the flying fox. It was such a fun day out.
Mittwoch (13th July)
We had a trip to Dortmund and we were getting a tour of Signal Iduna Park – Home of Borussia Dortmund FC. Instead of getting the bus we took the train. It was quite different from our trains here as most of them go through the roads. It didn't take long to get there, two stops and the 3rd was ours. When we got to the station everyone was taking pictures. We had to wait for our tour guides, but when they arrived our group got split into two as we were too big as a whole. The stadium was massive, the first place we went was to the bit where they do press conferences we got pictures taken in the seats and we also has a mock interview. Our group got to visit the teams changing rooms, and got to see the managers and the other important peoples area where they have a drink and chill out after a match. The team's mascot has the same name as me – Emma! When the tour was over we were allowed free time to shop or just wander around Dortmund. Our little group looked around shops and ended up in a computer shop and went on facebook.
Donnerstag (14th July)
I was looking forward to this day since we had arrived, it was the day we were going to Fort Fun. I love rollercoasters so it was going to be so much fun, the first thing we did was put our instruments into a room then we were allowed to go off and do what we wanted. The first ride we went on was the chairoplanes. Next we went on a fun house thing, it was very strange and creepy. We also went on a coaster where you had to go through a creepy maze just to get to the actual ride. I sat next to Thomas this time, but I sat at the wrong side as the coaster squirted you with water. We went on a few others then it was time to do a short concert, we also had to do another one before we left. After we had finished our group went to get some lunch, we all had chips & something to drink. Everyone was buzzing with the fun packed day we had had.
Freitag (15th July)
We were to spend the day exploring the town of Arnsberg today, then at night we were having a social evening/concert with Musikverein Herdringen in their schutzenhalle. We were allowed to wander around Arnsberg for a while. I went with my mum and dad. We were given a tour around the town. We were shown the world's fastest traffic light which changes in 5 seconds. There were loads of interesting things like a glass house and the old church. We also got told Arnsberg makes Kelloggs cereal boxes. I also saw a very cool roundabout which looked like balloons. After dinner we got changed for our concert. It was really fun we played some marches with the other band as well. Some of them had to read over our shoulders. As it was getting dark it got difficult to see our music. When we had finished we were allowed to stay and have a drink, chat and just have fun, but mostly all of the younger ones went back to the hotel and chill, so we sat in the corridor outside our rooms and had a feast.
Samstag (16th July)
We had a completely free day to do as we pleased. The market was on, so there were a lot of stalls. I was in heaven I ended up buying two fluorescent tops one yellow and one green. We later went along to a social event that we had been invited to by one of the other bands that we had played with, so I got to wear my new outfit.
Sontag (17th July)
We had our last schutzenfest in the village of Bachum where we joined the Musik Vosswinkel band. The parade was quite short but fun, we played some tunes in the hall afterwards. They seemed to like Thriller as they were dancing along to it. We also got our picture taken with the King and Queen of Bachum in the playground behind the hall. We had had our dinner early, so by the time we got home from the schutzenfest everyone was starving, so we had an idea to go and get pizza. So I went around with a pen and paper to get what kind of pizza everyone wanted. Mrs Dietzel took Murdoch, my dad and myself to Pizzaria Hüsten where we tried to translate English type pizzas to German, it was really hard but we got there in the end. While we were waiting for the pizzas I started talking to a guy called Christoph he spoke perfect English, he liked the same bands and style as me, so he added me on MSN and facebook, we still keep in touch. We had to sort of compromise with the pizzas as what we have and what the Germans have are totally different. What we wanted was Margherita, Peperoni, Hawian and Meat Feast but what we got was Margherita, Hawaii, Inferno and Diabolo. The Inferno was supposed to be pepperoni but it was extremely hot as it had jalapenos on it. It was quite funny seeing everyones faces when they were eating it. But over all it was a very fun day.
Over all it was an amazing trip.