2006
Reports 2007
Please note that not every group receives direct cash aid from the Association.
Groups visiting West Lothian:

March 2007 : Georg Scheuerlein from the Music School in Hochsauerlandkreis, along with Anja Hagedorn from the Kulturampt, visited West Lothian and Thurso to confirm arrangements and future concerts for the German youth orchestra coming in October 2007 (Thurso is twinned with Brilon in Hochsauerlandkreis).
May 2007 : 40 German young people aged 11-15 came to West Lothian to link up with our string ensembles and have a joint music and social programme over Pentecost weekend. The group stayed at West Linton for four days and had a terrific bonding session culminating in a final joint concert at the Lanthorn Community Centre where parents and friends were an enthusiastic audience. The Scottish young people had previously been to Germany the previous year.
June 2007 : A 47-strong group visited Linlithgow for a day as part of a tour of Scotland. The members were all part of the Kolping Organisation from the Hochsauerland district. As this is a religious group with the objective of fostering International friendship and understanding, it was little surprise when they burst spontaneously into unaccompanied harmony hymn singing in all the churches which were visited in Linlithgow.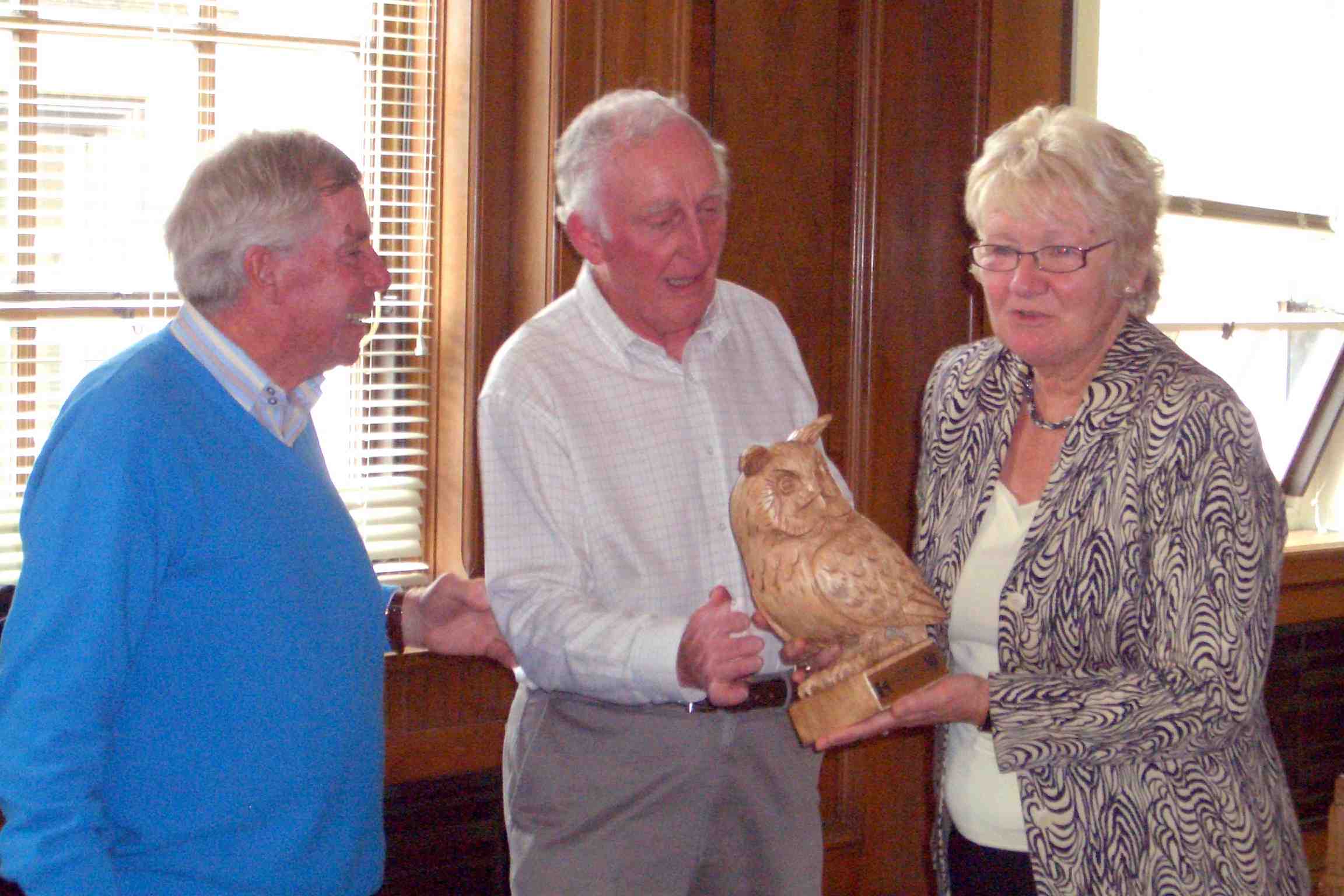 Our Twinning Association chairman, Liz Liddell, our Treasurer, Edgar Liddle and ex-Councillor Bert Gamble took one-third of the group each on a walking tour of the Royal Burgh before giving the visitors some free time for shopping or a coffee break. Edgar's group was also joined by one of the Twinning Association's newest committee members, Ann Grieg, whose linguistic skills proved to be most helpful. The German's religious leader, Hubertus Böttcher, thanked the Twinning Assocation's guides for their friendly, enthusiastic and knowledgable tours and issued an open invitation to visit his organisation in Arnsberg. The group leader, Johannes Michel, presented the Twinning Association with a hand-carved wooden owl as a memento of the visit.
July 2007 : 20 German teenagers from the Jugendamt came here to participate in their annual international youth exchange. The ten day joint residential programme also involved 20 young people from West Lothian and they stayed together at the Low Port Centre. This exchange has now been operating for 20 years and unfortunately, whilst they used to attract funding from the British Council to support youth projects, they have been informed that no further funding will be made available from this source. The British Council wish to concentrate on the new European countries. With this in mind, this longstanding exchange may have to include a third country or attract alternative funding after next year's reciprocal visit to Hochsauerlandkreis.
August 2007 : A Polish youth band from Olesno stayed at the Low Port in West Lothian and performed a variety of concerts in local schools and community centres, including the Open Day at the new Simpson Primary School, Livingston Football Stadium and Linlithgow Primary School. These links with Poland are a direct development from our Twinning links with Hochsauerlandkreis.
September 2007 : 60 members of the Hochsauerlandkreis Youth Orchestra from the Music School visited West Lothian and Thurso (Brilon link). The group gave a variety of concerts at Linlithgow Primary School, Broxburn St Nicholas' Church, the Winter Gardens in Glasgow and St Michael's Church in Linlithgow. The Linlithgow church concert was exceptionally well attended by the local West Lothian community, Twinning Committee members, West Lothian councillors and Herr Stork, Chief Executive from Hochsauerlandkreis. Councillor William Boyle, in Councillor Jim Walker's absence, gave a warm West Lothian welcome to the orchestra at this concert.
The orchestra also spent two days going north and performed in Thurso High School and gave a splendid concert in St Peter's and St Andrew's Church in Thurso.
Groups visiting Hochsauerland:

April 2007 : A delegation from Broxburn Silver Band attended the Gleidorf Band's biannual music express concert. The Broxburn Silver Band had played at this event in 2003 and had hosted the Gleidorf Band in West Lothian in 2005 and are keen to maintain friendship links
July 2007 : The Treasurer, Edgar Liddle, and Twinning Association Committee member, Murdoch Kennedy,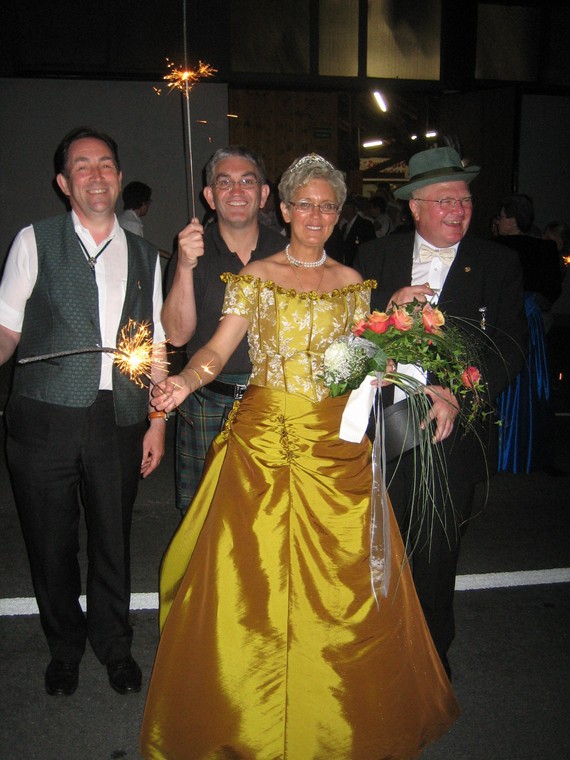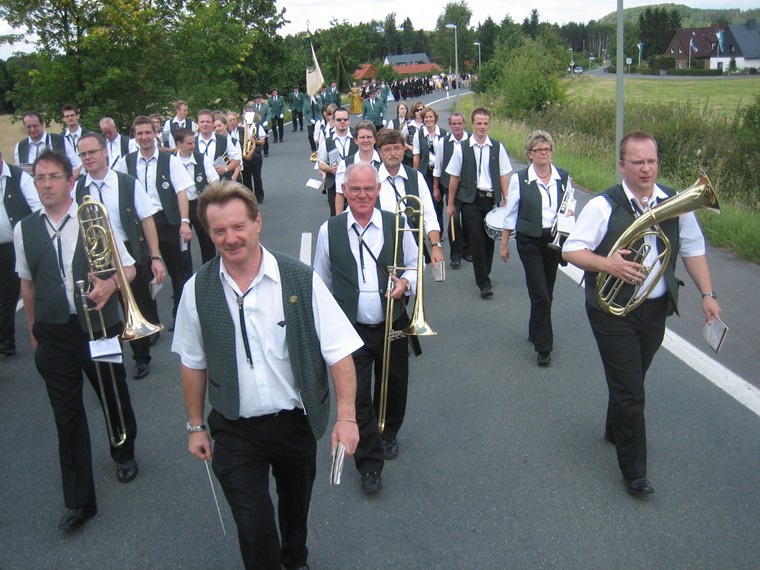 paid a private visit to Hochsauerland to support their friends Fritz and Verena Hauswirth who have completed their year as the "Shooting King and Queen" of a small village called Oelinghauser Heide. (See photo left)
Such is the strength of the friendships developed over the years that Edgar was invited to join the local band to play Bass Trombone for the three-day festival which marks the handover to a new "Royal Couple".
The photo (right) shows Edgar in the front row to the Conductor's right hand side.
Edgar and Murdoch took the opportunity to make the first moves towards a visit of Linlithgow Reed Band to HSK at Easter 2008. This private visit did not involve the Twinning Association in any expense.
August 2007 : A three-country music project involving Hochsauerlandkreis (Germany), West Lothian (Scotland) and Olesno (Poland) took place in Poland. This joint band, involving 80 musicians, performed at a variety of concerts in Olesno and surrounding areas and also participated at the Rosenberg Music Festival, involving an open air mass at the oldest wooden church in Europe. Olesno, Poland, is twinned with Arnsberg in Hochsauerlandkreis. The group spent an additional night, at their own expense, in Krakow, Poland.
Balbardie Bowling Club attended the Neheim Husten Festival and cemented relationships with colleagues at this Festival.
September 2007 : Outgoing: 31 August – 3 September: 25 Jazz Band members and staff, together with 6 pipers, attended the newly developed Gleidorf Music Festival. This festival is in its second year and resulted from a field adjacent to the local church being made available to the community. The community then developed a local park and erected a bandstand along with a war memorial. The local German wind band and local community artists were also involved with our musicians and jointly gave a variety of musical performances over this weekend.