Welcome to the home page of

West Lothian
Twinning Association.

The site was last updated on 16th May 2022 to change

this page


COVID-19 UPDATE : VISITS BETWEEN THE TWO COUNTRIES ARE RESTARTING SLOWLY.

We continue to keep in touch using social media and a few, small-scale, personal visits are being made.
The Twinning Association office bearers continue to welcome contact from potential "twinners". Please click on "Contacts"

On 11th November 2021, several members of both the Scottish and German committees met via 'zoom' for a successful and enjoyable get-together. We are all looking forward with eager anticipation to celebrating the 50th anniversary of our twinning in 2022. Watch this space!!



Please feel free to make comments - click on "Contacts"
---
In August 1972, a twinning partnership agreement between the district of Arnsberg in Germany and the district of West Lothian was signed in the County Buildings, Linlithgow. After reorganisation in Germany in 1975 the area of Arnsberg joined with Brilon and Meschede to become the Hochsauerland.
The aim of the twinning association is to promote friendship and encourage educational and recreational exchanges, whether by individuals or groups of adults, young people and school children, sports teams, musical bands, orchestras, choirs etc..
Funding can be made available, normally on a per capita basis for young people under 21, but consideration will also be given to ex gratia payments for other groups. The actual figure is calculated annually depending on available resources and the number of applicants.
Please get in touch - see the contacts page.
Few people, in 1972, could have anticipated how the partnership would grow. Today we must have one of the strongest and certainly one of the longest twinning arrangements in Europe and we are delighted our long established link continues to flourish and be successful.
Celebrating 45 Years of Partnership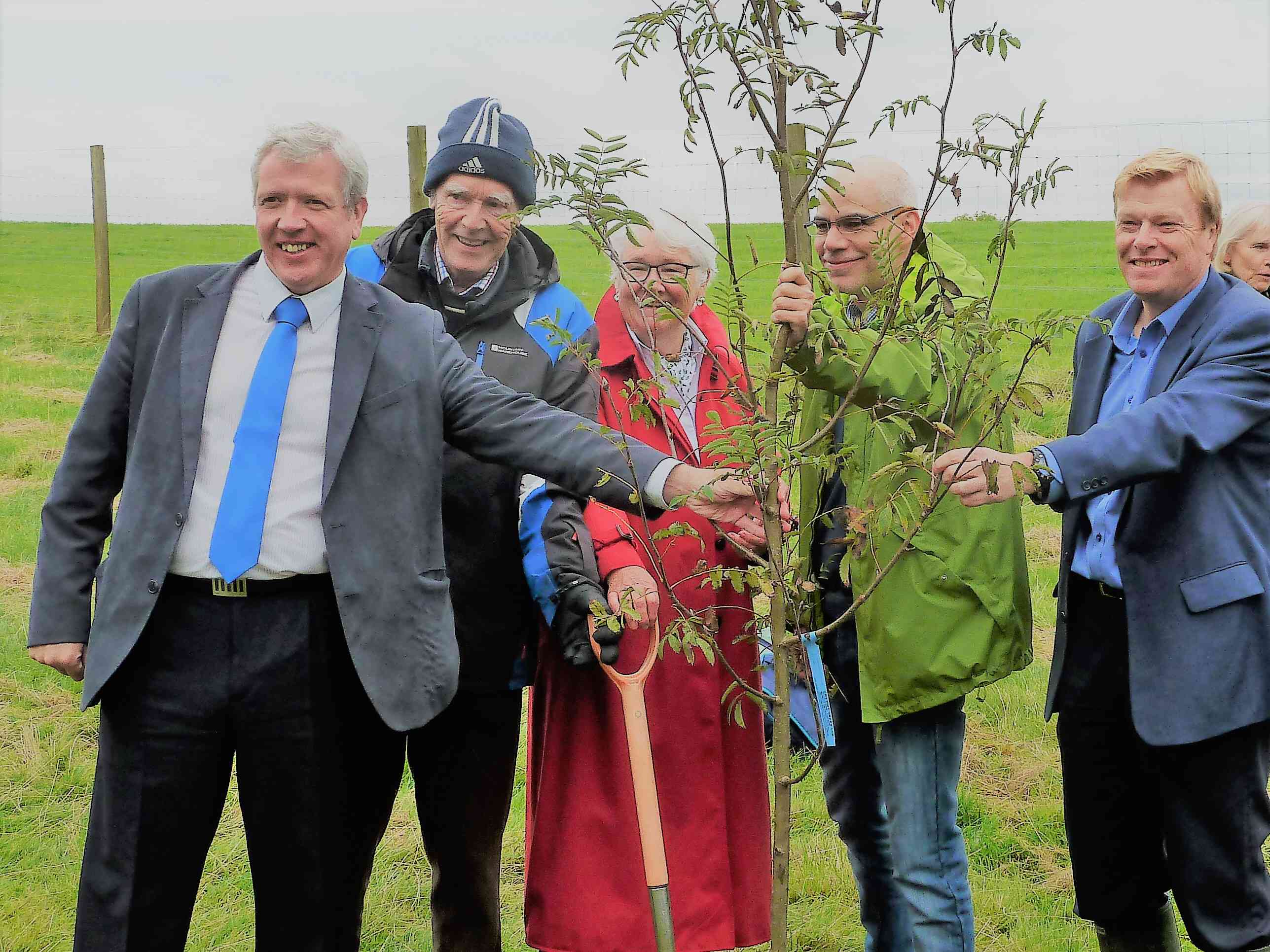 In 2017 we celebrated our partnership by planting 45 trees at Beecraigs Country Park.
Seen here performing the "ceremonial" planting are (left to right) West Lothian Councillor Damian Timson; WLC Leader Lawrence Fitzpatrick; Twinning Association (Scotland) Chair Liz Liddell; Partnerschaft (Germany) Chairman Sebastian Schüttler; WLC Councillor Harry Cartmill.
[ the unintentional scene-stealer behind Harry is Jacqueline Altenwirth who is French and is married to Paul-Ernst who is German. Another fine example of international cooperation! ]

Further pictures of this event are available under the GALLERY tab 45th anniversary celebrations - 2017.

Celebrating 40 Years of Partnership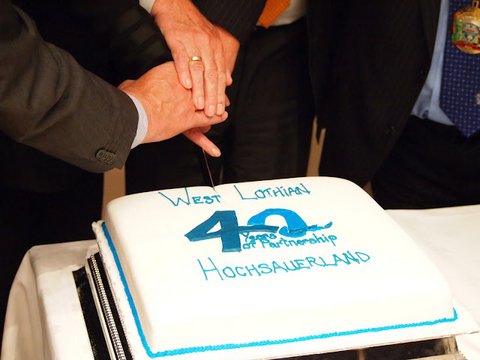 In 2012 we celebrated our partnership with Hochsauerland by holding a special evening to commemorate 40 years of twinning. The guests for the evening included the Landrat from Hochsauerland, (Herr Dr. Karl Schneider) and the chairman of the Hochsauerland Twinning Association Erhard Schäffer. One of the original signatories to the twinning agreeement, Ferdi Tilmann, was delighted to return once more to West Lothian. The Provost of West Lothian Tom Kerr and the Leader of the Council John McGinty were also in attendance. Many of the guests attending the evening were the people who had made the twinning association successful over this long period. Many old friends were brought together to remember.